Nexus
Our Nexus platform gives tech product companies access to on-demand expertise, federal market curriculum, and a community of tech companies and industry partners.
Nexus is the all-in-one place to access the community and curriculum you need to win. No more internet rabbit holes or hiring before you're ready. Get started with a 1-month free trial.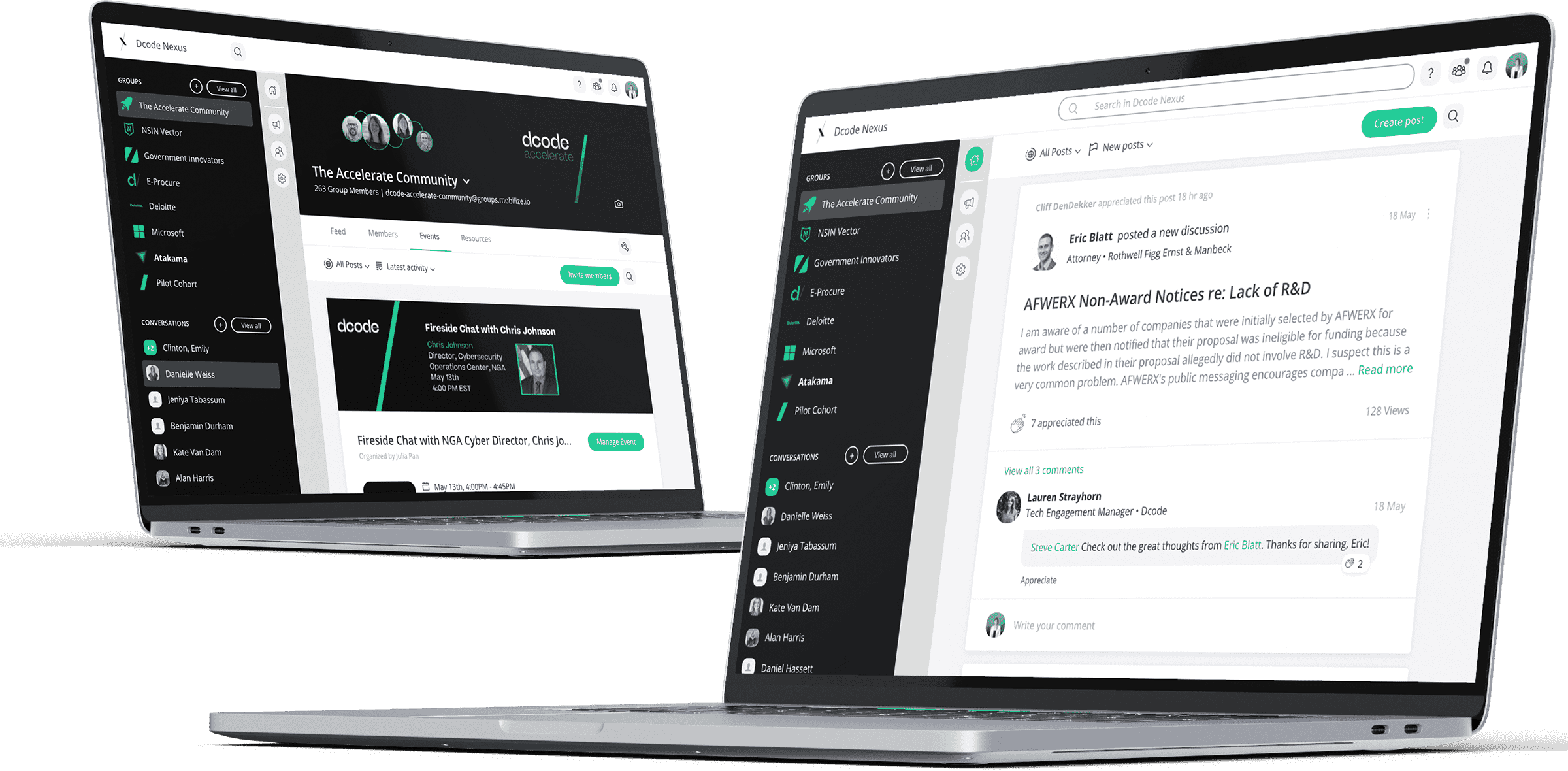 What's so great about Nexus?
Expert Curriculum

+

Nexus gives you real-time access to Dcode's network of federal experts, trusted partners, and a full suite of courses on scaling in federal. We cover everything you need to know from acquisitions processes, legal concerns, pricing, marketing, contract vehicles, security compliance, market research, and more.

Community

+

Become part of our awesome tech community and meet the 100+ other tech companies (including 10+ unicorns) using Dcode to scale in federal. They can share lessons learned, expand your network, and become teaming partners.

Connections & Events

+

Nexus connects you with our expansive community of government program offices and industry experts through exclusive events twice per month that provide unique insights into their mission needs and how to match them.

Meet dozens of systems integrators and other industry partners to find teaming opportunities around specific solicitations. Plus, we can help point you in the right direction when looking for vendors that can help with FedRAMP, proposal writing, and compliance requirements, and more.
We work with top tech from the private sector, so you'll be in good company.
To join Nexus, your company should have commercial traction for its software product(s) and be looking to develop or scale its federal business. And there's something for everyone at your company on Nexus:
C-Suite

Sales

Marketing

Engineering
Come for the expertise, stay for the community. We're always updating content, sharing new insights, and bringing in government and industry program offices to talk to our community.
Monthly
$975
Pay monthly, cancel anytime after three months
Annual
$9,750
Pay up front for two months free